The installation consists of ten LED bars, each five meters long, that can rotate around a 180° axis to form a fifty-meter line of light that hovers, almost immaterial, in the darkness.
A hybrid screen-light sculpture, LINIE challenges traditional notions of moving image, restructuring perceptions of pixel formats.
LINIE attempts to circumnavigate the well-trodden histories of film and video to instead evoke a spirit of light-hearted exploration and bold presentation embodied in the light and media experiments of the early Bauhaus.​​​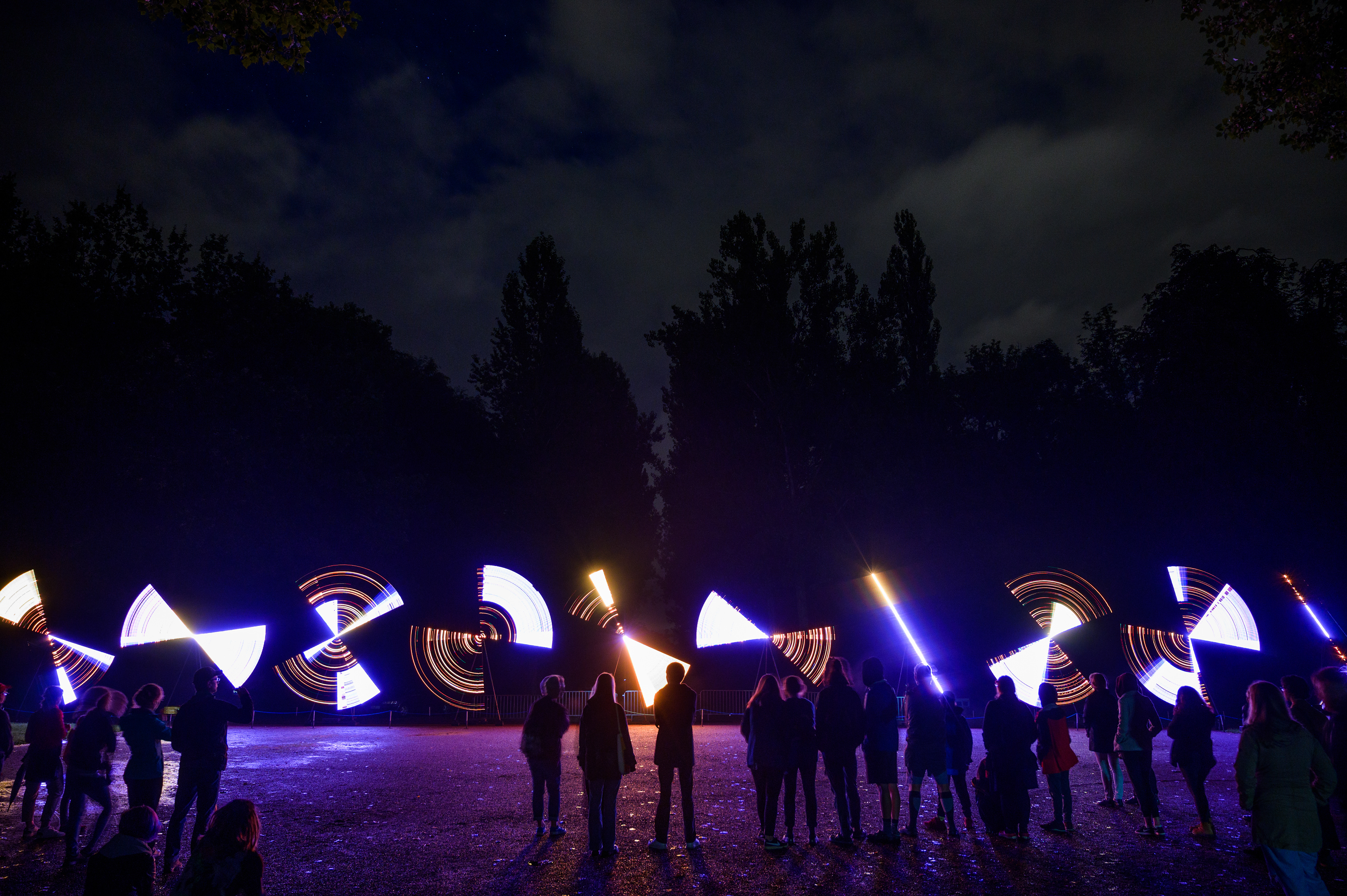 In addition to a choreographic arrangement of color and motion by media artist Stefan Kraus, two animation sequences which reflect on the "Weimar Triangle" as a symbol of friendship and exchange between people were created by students of the Bauhaus-University Weimar as part of a course last semester:
Valentin Birner - Points of Contact
Blending styles of simulated and randomized generative animation, "points of contact" is trying to visualize the struggle of individuals to be united in a world that is becoming more and more divided. It is about breaking down borders, metaphorical and physical walls that are causing people to be isolated, in times when they need support from others the most. 
The piece is trying to show the color and beauty of diversity, and the opportunity and power of benefitting from perspectives, other than our own. Follow the journey of a single dot of light, and watch it overcome obstacles to meet up with more and more lonely particles until they are bright and colorful enough to change the little world they are inhabiting.
Color and motion Choreography, 10 min / Valentin Birner studies Media Art and Design at Bauhaus-University Weimar
Lorenz Weiland - 77
The choreography "77" uses the installation as a timeline, symbolically compressing 5.6 years of european history in one second to reflect the events unfolding in the seventy seven years between 1914 and 1991 and the emotions of the humans that lived through them.
Color and motion Choreography, 10 min / Lorenz Weiland studies Media Art and Design at Bauhaus-University Weimar
The software to animate and control LINIE was written by Stefan Kraus in the visual programming language TouchDesigner. The LED strips and servo motors are controlled via Artnet. LINIE can playback prerecorded choreographies or live generated, procedural animations.
LINIE is an Artwork by:
Stefan Kraus, Gregor Sauer & Stephan von Tresckow
With Choreographies by Lorenz Weiland & Valentin Birner (
Bauhaus-University Weimar
),
following an original concept by Stefan Kraus & Max Schreiner.
LINIE has been supported by:
Klassik Stiftung Weimar & The City of Weimar & Bauhaus-University Weimar
______________________________________________
Fotos by
Candy Welz